Diese Veranstaltung hat bereits stattgefunden.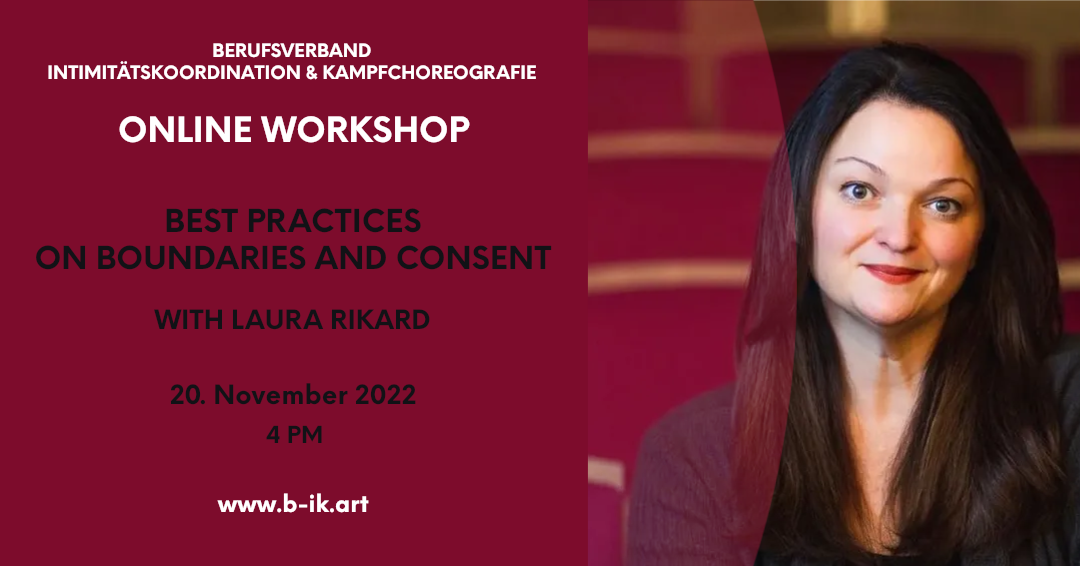 Best Practices on Boundaries and Consent
November 20, 2022 @ 4:00 pm

-

7:00 pm

|

Euro29 – Euro59
Tools for developing a consent-based process, setting boundaries, desexualizing the process, choreographing intimacy, and documentation.
About the workshop
Laura Rikard will speak about the research, theories, and practical tools that are the foundation for creating consent based spaces, setting, boundaries, and choreographing intimacy choreography.As the intimacy discipline emerges, having solid foundational practices is essential for healthy collaboration, managing power dynamics, and helping everyone in the room be a little bit better at being in the room.
This workshop will provide an overview of that process, discuss opportunities for training, and when to know when you are ready to do the work.
– This workshop will be in English language – if you need Translation, please let us know.
About Laura Rikard
Laura Rikard, (SAG-AFTRA/AEA/SDC) is an intimacy choreographer/director and coordinator, director, actor, and professor.
She is Co-Founder and Head Faculty of Theatre Intimacy Education. She choreographs, consults, and teaches workshops on best practices for staging intimacy for professional and educational theatre and film nationally and internationally.
Intimacy Choreographer credits include: Spring Awakening; Heathers, Indecent, Tick Tick Boom Scenes From an Execution; among others. Intimacy Coordinator credits include: Harlem; Mother's Instinct; Interview With A Vampire; Ramy; Anne Rice's Mayfair Witches; Billy Porter's Anything's Possible; and Fever Dream's Appendage.
She is a contributor to the first book on theatre intimacy, Staging Sex: Best Practices, Tools and Techniques for Theatrical. As a director and actor, she has worked in film and television, NYC, regionally, on national tours, internationally and devised solo productions. She is an Assistant Professor of Theatre at the University of South Carolina Upstate.
She is a recipient of the Best Acting award at the Virginia Film Festival and has been named by Academic Keys as a "Who's Who in Fine Arts Education" Festival, the Kennedy Center Medallion for contribution to Intimacy Direction, and the Faculty Teaching Award at USC Upstate. She is based in Asheville, NC and the Mom of 4 year old twins.
Teilen Sie diesen Artikel!