Diese Veranstaltung hat bereits stattgefunden.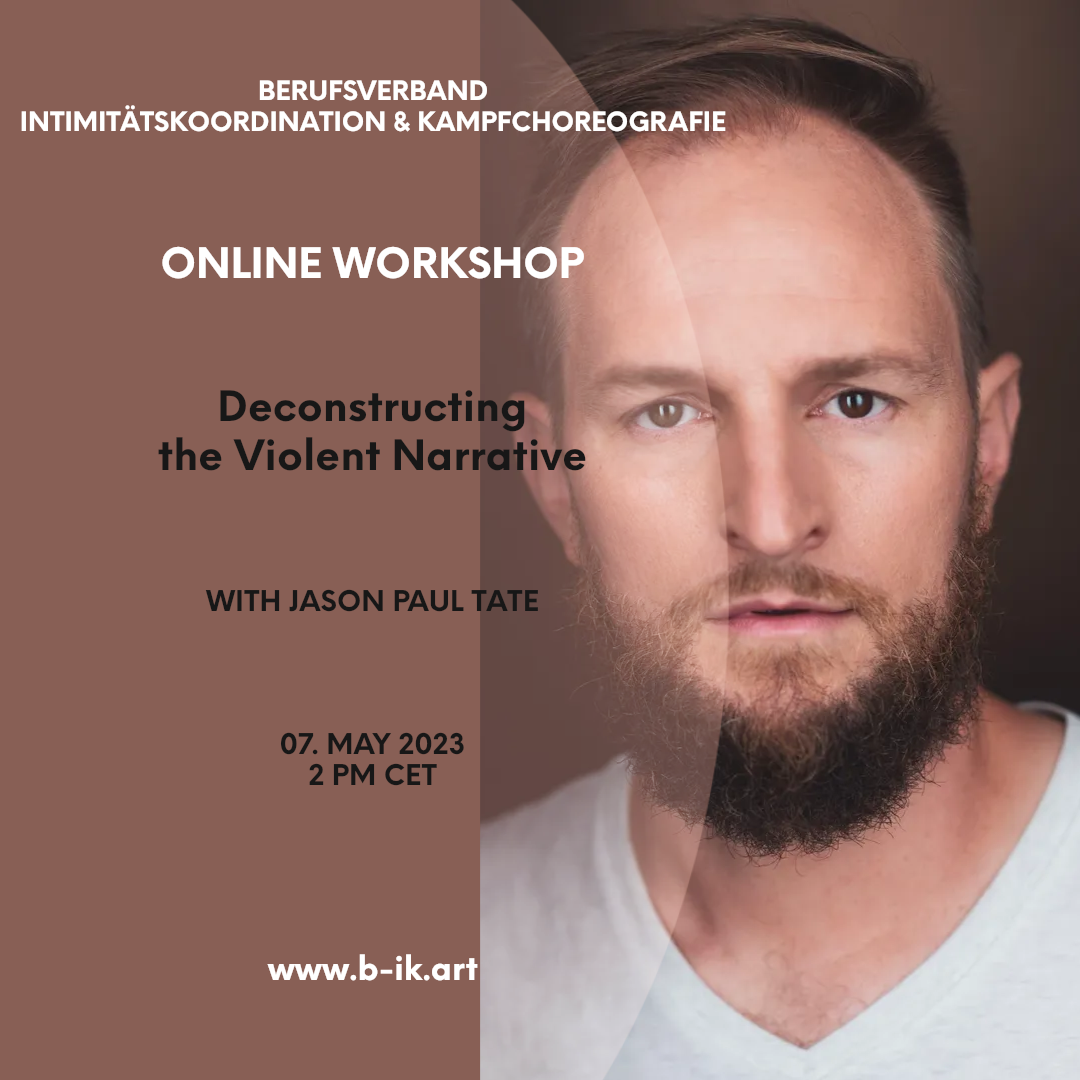 Deconstructing the Violent Narrative – for performers, directors and choreographers
Mai 7 @ 2:00 pm

-

4:00 pm

|

€19 – €39
About the workshop
Designed to provide actors with an additional if not alternative way to experience stage violence, this class invites participants to reimagine their relationship to conflict storytelling and draw on prior experiences with movement outside of traditional stage combat training.
The concepts can be largely successful for those who have had difficulty claiming competency with movement disciplines in general. We will work to simplify the way in which we agree to tell and be told stories while expanding the role of the artist to design rather than imitate.
Simultaneously, this 2 hours workshop aims to open the director and/or choreographer's vision to possibilities rather than improbabilities and encourages them to embrace the theatricality of violence rather than attempt to hyper-realize it.
About Jason Paul Tate
Jason Paul Tate is a director, choreographer, and performer, splitting time between San Diego, CA and New York City.
Professionally addicted to movement, he has spent the last 20 years collaborating with world-renowned actors, acrobats, tango dancers, and string musicians to create works with high concentrations of physicality.
Credits include the Edinburgh and New York Fringe, American Repertory Theatre, The Old Globe, Brooklyn Academy of Music, Ars Nova, Rattlestick Playwright's Theatre, Classic Stage Company, the Ordway Performing Arts Center, Tuacahn Center for the Arts, Great Lakes Theatre Festival, Idaho Shakespeare Festival, Lake Tahoe Shakespeare Festival, Havoc Movement Company, Blackbird Dance Theatre, Opera Western Reserve and The Lost Colony.
He has been doubly fortunate to perform elements of his own creation in specialized movement at the Public's Delacorte Theatre, the Metropolitan Opera, and numerous live stunt shows across the country.
Jason is a proud member of the Society of Stage Directors and Choreographers and Actors Equity Association. He is the current Vice President of the Society of American Fight Directors as well as a recognized fight director and certified teacher; and he is the co-founder of Neutral Chaos, a movement solutions company dedicated to training artists to tell physical stories.
Teilen Sie diesen Artikel!