Diese Veranstaltung hat bereits stattgefunden.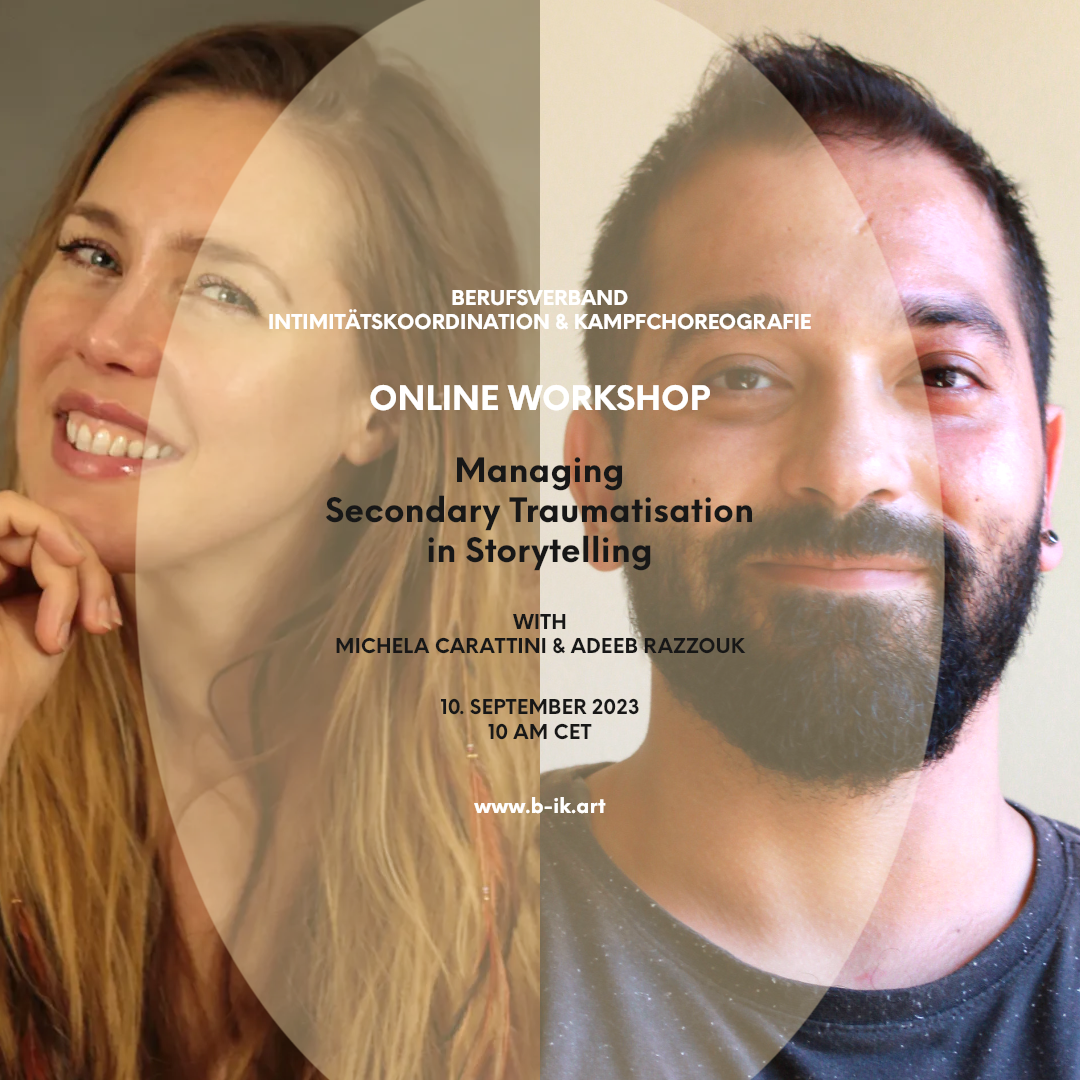 Managing Secondary Traumatisation in Storytelling
September 10 @ 10:00 am

-

12:00 pm

|

€19 – €39
About the workshop
Psychological safety is at least as important as physical safety in the work of intimacy coordination, fight coordination, cultural consultation and production responsibility.
Intimacy work in particular encounters the psychological aspects of consent, cultural and personal vulnerability, coercion, exploitation, power dynamics and trauma. As evidence gathers for the associated occupational hazards of (en)acting or witnessing simulated trauma or attachment, learning to minimise and manage these on set becomes essential for the intimacy coordinator's toolbox.
This presentation aims to examine the types of secondary traumatisation which may occur in storytellers, which identities are more likely to experience these, and what strategies have evidence-based efficacy.
Contributions to this interactive presentation are from intimacy coordinators with diverse specialisations from around the globe.
About Michela Carattini
Michela Carattini is Company Director and Head Trainer at Key Intimate Scenes (KIS), a SAG-AFTRA accredited and BLACK PAGES endorsed Intimacy Coordination Company based in Australia.
KIS' credits include the hit series NINE PERFECT STRANGERS (Nicole Kidman, Tiffany Boone, Melissa McCarthy, Michael Shannon, Samara Weaving), WHILE THE MEN ARE AWAY (Michela De Rossi, Gemma Ward), critically acclaimed films BLAZE (Simon Baker, Yael Stone), BIRDEATER (Shabana Azeez), and celebrated stage productions from GRIFFIN THEATRE and THE ROYAL NEW ZEALAND BALLET.
As part of the team which drafted Australia's National Intimacy Guidelines, Michela co-founded the Australasian Intimacy Coordination Network (AICN), and developed an Australia-specific, Indigenous-centred IC training curriculum, currently the only SAG-AFTRA accredited intimacy coordinator training program outside of North America and the UK.
As an actor with a focus on cultural competence and mental health, she received her BA in Psychology from Columbia University and her Masters in Criminology from Sydney University, working for just under a decade across three countries as a caseworker and counselor specializing in violence against the less powerful and culturally and linguistically diverse clients.
About Adeeb Razzouk
Originally from Syria, Adeeb Razzouk is an actor, voice-over artist, content creator, Theatre of the Oppressed instructor and intimacy coordinator based in Australia. He graduated with a Bachelor in Theatrical Acting from the Higher Institute of Dramatic Arts in Damascus, and went on to star in theatre, screen, and voiceover roles in Syria, Lebanon and Australia, including RIVER OF MADNESS, BEIRUT WOW, NATIONAL GEOGRAPHIC and HOUSE OF GODS.
In Lebanon, he trained as a facilitator and instructor of Interactive Theatre, specialising in refugees and trauma healing, and has facilitated Interactive Theatre workshops with marginalised communities in Syria, Lebanon and Australia.
He produced the experimental theatre and film experience LIGHT ROOM SHOW and VOICE MEMO, a sound collage of refugee experiences for online broadcast drama. His intimacy coordination credits include BREATHING CORPSES, LEARNING THE CURVATURE OF THE EARTH, and THE DUKE & THE RAJA.
He is fluent in English and several Arabic dialects, and is thrilled to be facilitating intimacy coordination work in the Arabic-speaking industry.
Teilen Sie diesen Artikel!